Lear more about the founder of Conscious:Love and the background of the project.
Hi there!

My name is Thomas Becherer, Founder and Inventor of Conscious:Love, the leading Dating-Portal for conscious and awakend people.
I would like to introduce myself to you briefly, because Conscious:Love is authentic, just like the people on the platform and the people behind the project.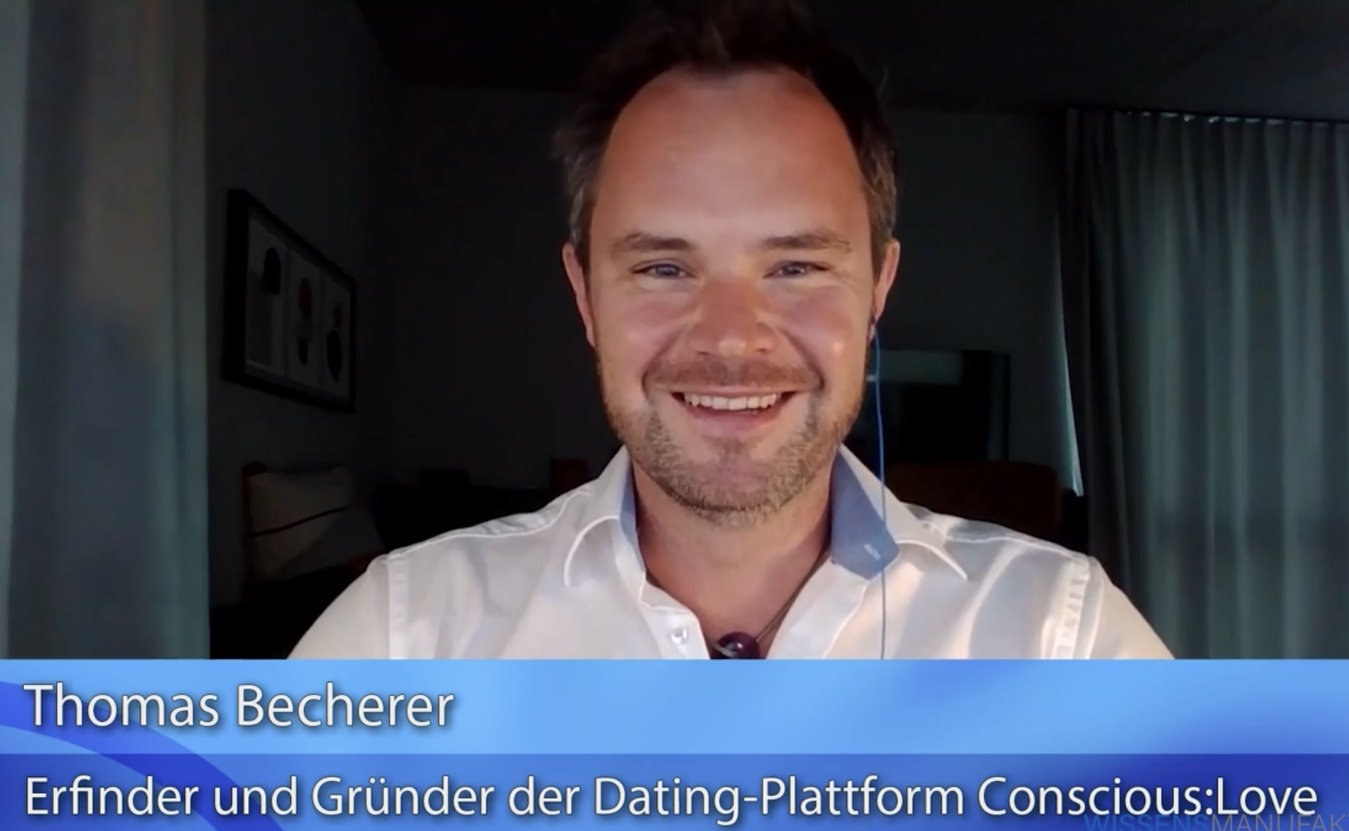 I had the idea to create the platform in May 2021, in the middle of the "pandemic". I wanted to offer a protected space and create an opportunity for conscious and covid unvaxxed people to connect for friendship, dating and love relationships, as those were excluded from society and pressured by a strong mainstream narrative. It was quite a curageous act to start this platform in that times. Many people were really shaken up during this period and things were allowed to come together in a new way. That's how the project started and the platform went online in July 2021. It was a steep start with strong growth, a lot of media coverage from the mainstream press, headwinds, but also many enthusiastic users. Since then, the project has developed a lot and in July 2022 it evolved into the brand Conscious:Love. In addition to the dating platform, I also built the podcast "Bewusst im Gespräch" and want to inspire people through it. With over 1000 subscribers, the podcast is quite something. Conscious:Love is my heart's project and I am proud to help to enable that people, who belong to each other, can find each other.
Today I am 42 years old and I deal a lot with personal development, developing my mind, doing inner healing work, spirituality, and also the worldly things like entrepreneurship and the implementation of my ideas. Because all that counts in the end is what you bring into the world. An idea without implementation remains just an idea. As a man, I create on the outside and put my vision into action. Decisive for me is the balance between the spiritual level and the material implementation. I love to travel and to be able to work independent of location. I like to spend the winter in sunnier regions like in Mexico or other parts of South America.
I grew up in Bavaria, started a classical academic career with a degree in chemistry and an MBA (Master in Business). I then had a career in the industry and later in management consulting for over 10 years, where my last role was project lead of international projects. I was allowed to travel a lot for business, within Europe and in Asia, especially China. I no longer had a private life. Since my first day at work, I felt alienated in this office world, but I didn't want to live penniless on the state, I wanted to build something for myself. So my path still led me to Switzerland in 2016, where I still live near Zurich. At the beginning of 2019, I left the employee system to give life a chance to show me what else it has planned for me. So it all worked out that I had the time for myself and could follow the ideas I received. So I was able to use all my time and saved up resources to build something new. I know the "hard working life" and the "matrix system" from the inside, I know what is going on in the world and where the social narrative is heading. And it's up to us to build alternatives. That's what I'm contributing to.
I hope you were able to gain some insight into my career and the project and now I wish you a great time on the platform with many, beautiful and loving encounters.
Sincerly, Thomas
We stand for the following core values. These values give our actions a framework within which we act, develop and seek to communicate.
Love
Truth
Connectedness
Morality
Freedom
We connect conscious people.
in final preparations -
coming soon!
© 2022. All rights reserved.